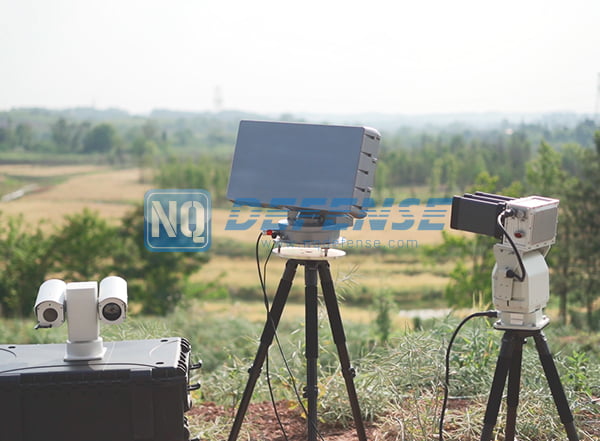 Upon customer's request, NovoQuad team have conducted a real live demo to demonstrate the functions and features of ND-BU001 Standard Anti-Drone System through a complete counter-drone task. This customized system includes a detection radar, a directional jammer, an omnidirectional jammer and an optical camera.
Through the ND-BU001 software interface, the customer could monitor the entire process of counter-drone task. The DJI Phantom 4, as the target drone, was controlled to fly back and forth in this task. When the target drone flew into the detection area, the real-time target trajectory tracking and target information details were collected by the detection radar and were displayed on the software interface. The target drone flying 3km away was detected by the detection radar, which indicates its feature of long detection range. Thereafter, the directional jammer and the omnidirectional jammer interfered with signal of the target drone. The jamming distance of the jamming units could reach 3km with 6 jamming frequency bands. Besides, with the optical camera, it could slew the target drone's position with its long-range video tracker and support for playback.
Live demo in real operation scenario makes customers have clear and better understanding of product functions, features and performance. NovoQuad team always focus on customer centricity and take customers' feedback and comments seriously. We are committed to constantly improving the real live demonstration, to bring high level customer experience.