ND-IM005 Standard Wi-Fi Interception System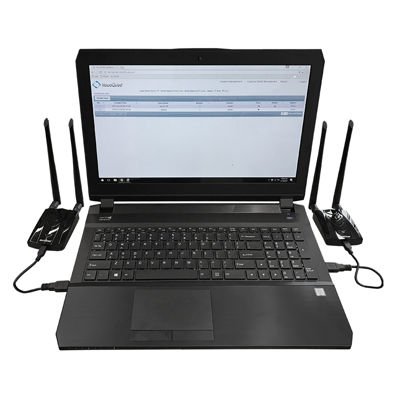 ND-IM005 Standard Wi-Fi Interception System is specifically developed for police operations and searching of information leaks in the office premises, government agencies and other structures where access to Wi-Fi networks is possible.The system consists of 2 main modules:
Cracking Module (Penetrator)
Interception Module (Interceptor)
The system can work either in Passive (monitoring) or Active modes. In monitoring mode, the operator can see ALL network users (working, connected, not connected) which are present within system coverage. The operator can create database of MAC addresses, signals levels, and all access points of users.
This product is available in our Sample Promotion Program with extremely favorable price now.
Functions
Simultaneous monitoring of Wi-Fi networks
Up to 4
Frequency band
2.4GHz, 5GHz
Wi-Fi protocol
802.11a/b/g/n
Wi-Fi security protocols
WEP, WPA-Personal, WPA2-Personal and WPA2-PSK
Jamming of wi-fi network
Yes
Interception of HTTPS/SSL Sessions
Yes (MITM)
Coverage
Indoor
Up to 50 meters
Outdoor
Up to 100 meters and more
Internet content reconstruction
Email
IMAP, POP3, SMTP
Webmail
Yahoo Mail, Gmail, Windows Live Hotmail, etc.
IM or Chat
Facebook Messager(Web), Yahoo Messenger, Gtalk, Yahoo Web Chat, Skype Voice Call Duration Log, etc.
HTTP
Web Link and Content, Reconstruct, Files Upload and Download, Video Streaming (Youtube, etc.)
HTTPS/SSL Interception
HTTPS decoding and reconstruction with username and password available (with self-signed certificate or Sub-CA certificate available by other party)
File Transfer
FTP Upload/Download, P2P File Sharing (BitTorrent, etc)
VoIP
VoIP (SIP with G.711, G.723, G.729 and iLBG Codecs) can be customized and included (optional)
Telnet
Support with Play Back
Social Media
Facebook, twitter, Google+, Linkedin, etc.
Cloud Service
CDR of Dropbox, Evernote
Geo-location Service
Google Location Service, GIS Data from Facebook
Video
Youtube, etc.
Wi-Fi & Lawful Interception System/WiFi Monitoring System
• Scanning for Wi-Fi stations and access points
• Capturing 802.11a, 802.11b, 802.11g and 802.11n WLAN traffic
• WEP or WPA/WPA2 keys specification to decrypt encrypted datas
• Display of detailed per-node and per-channel statistics
• Display of detailed IP connections statistics: IP addresses, ports, sessions, etc.
• Reconstruction of TCP sessions
| | |
| --- | --- |
| • Wi-Fi Interceptor |  x 1 |
| • Wi-Fi Cracking |  x 1 (or several) |
| • Wireless Adaptors |  x 2 |
| • Power Adaptor |  x 1 |
| • Set of Cables |  x 1 |
| • Transportation Case |  x 1 |
| • User Manual |  x 1 |