ND-BD004 Handheld Anti-Drone Jammer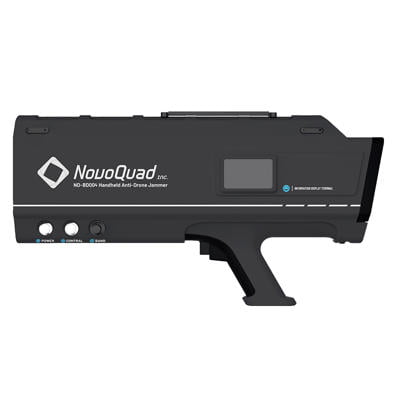 ND-BD004 Handheld Anti-Drone Jammer has been specially designed with longer interference distance and wider coverage angles in both azimuth and elevation. This jammer integrates countermeasure, display, control and power supply all in one. It has powerful jamming performance against small drones to protect key low-altitude areas.
With small size, light weight and good mobility, this jammer is suitable for flexible and mobile low-altitude protection tasks for important meeting, large event and daily patrol in fixed places. It offers quick response for cooperative deployment with other stationary anti-drone systems.
| | |
| --- | --- |
| Jamming frequency band | The jamming function covers a wide frequency range, mainly covering 420-460MHz, 900-940MHz, 1227-1267MHz, 0.4-2GHz (SDR), 2.4-2.48GHz, 5.725-5.850GHz, GPS/GLONASS L1/L2, of which 0.4-2GHz is software defined frequency band. |
| Effective jamming distance | ≥1.5km (up to 2km depending on circumstances) |
| Interference to signal ratio | <10:1 |
| Jamming effective time | ≤3s |
| Coverage area | Azimuth: ±30°; Elevation: ±30° |
| Working hour | Continuous working time: >1h; Standby time: >6h |
| Dimension | 500mm x 300mm x100mm |
| Weight | ≤3.5kg (battery included) |
| Operating temperature | -40℃-70℃ |
• Programmable, interference frequency bands and bandwidth could be customized
• Removable battery
• Portable and easy to use
• Safe to operators and green to environment
Jammer Host
Terminal Mobile (Optional)
Battery
Power Cable
Protection Case
User Manual