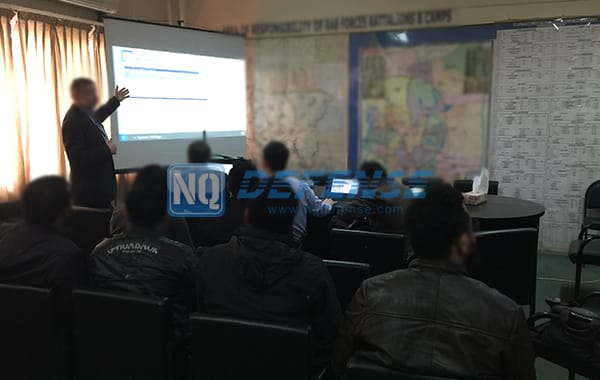 As criminal information is usually transferred through cell phones, the powerful system capable of monitoring cellular communications is urgently needed by armies, police departments, government agencies, etc. in various countries in the world.
ND-IG001 GSM Interception System designed and developed by NovoQuad team specializes in monitoring cellular communication systems targeting various frequencies, displaying the intercepted and monitored information in real time and saving such information for future analysis.
Thanks to its advanced technology and customized services, NovoQuad team were invited by the local government officers to make a series of demonstrations regarding ND-IG001 from January 22 to 28, 2016.
The first two demonstrations were held at the bases. During the demonstration, NovoQuad team and its main products and solutions were well introduced. The technical experts of NovoQuad explained in detail the functions and operation procedures of ND-IG001, and gave satisfying answers to all questions raised by the officers and technical staffs. The chief officers were interested in the system and gave high praise of the professional introduction made by NovoQuad team.
Next, the five field tests were held separately at the bases, office, headquarter and on roofs of the office building and the local highest hotel building. During the tests, ND-IG001 rapidly deciphered each voice conversation, SMS messages and DTMF codes within hundreds of meters, and created recorded communication sessions in the database simultaneously. All tests executed successfully, and the officers and technical staffs attending the field tests were full of praise for the test results and the high performance of the system. The chief officers also expressed that this advanced system would greatly help to fight against crimes and improve the effectiveness of operations.
The one-week demo trip with field tests in South Asia came to a successful end, and the potential order was under process.