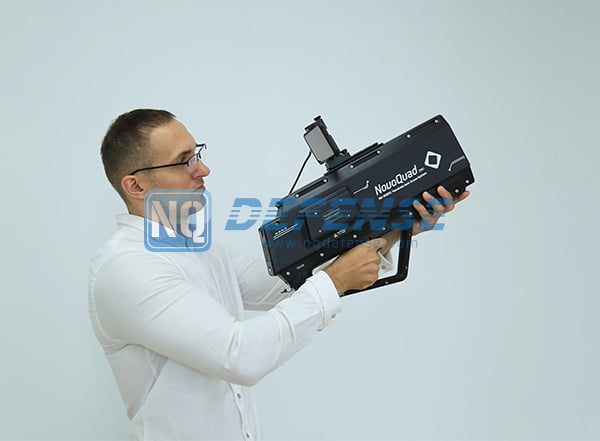 By invitation, NovoQuad team have had a video conference with a customer from Latin America, to introduce its popular Anti-Drone Systems and Solutions. Throughout the course of the conference, the features, parameters and performance of ND-BD003 Handheld Anti-Drone System has been highlighted, which was also the customer most interested in.
To establish project cooperation, upon the customer's request, NovoQuad team also provided a live demonstration of ND-BD003, a compact device that integrates detection, countermeasure, display, control and power supply all in one. ND-BD003 is designed as a programmable anti-drone jamming gun, which covers a wide range of frequency bands, and some of them has been reserved for customized definition. Furthermore, ND-BD003 could be connected to the APP control platform of mobile terminal (Android) via USB cable for parameter setting and target information recording. Through numerous practical use and testing, it is proved that the drone countermeasure performance of ND-BD003 is strong and stable. With its small size and light weight, it is portable and convenient to operate.
The live demo and detailed explanation are critical in helping to stimulate the consumer knowledge and comfort toward the product functions and features. Also, it is NovoQuad team's greatest honor to provide tangible proof of product execution, and technical supports to consolidate long-term relationships with its value customers and partners. The customer was satisfied with this live demo and recognized NovoQuad team's professionalism, and further project cooperation are under discussion.