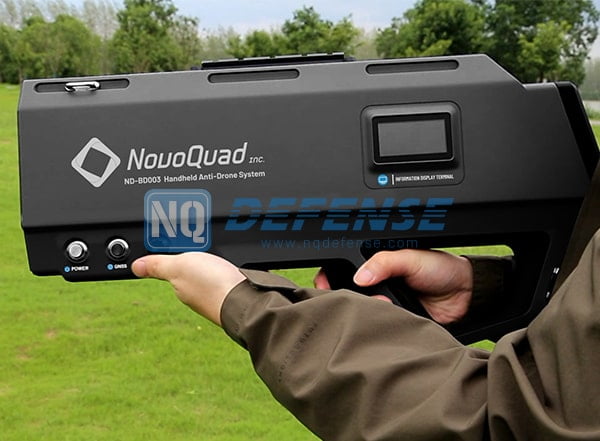 For customer's special airspace protection requirements in specific scenario, NovoQuad team proposed a customized anti-drone solution. After testing sample device, the customer satisfied with its performance and placed an order of dozens of ND-BD003 Handheld Anti-Drone Systems. Due to urgent use, the lead time was quite short. To meet such demand, NovoQuad team made detailed and proper project plan in advance, optimized each process, including production, assembly, quality-control, testing and shipping. Finally, with all joint efforts, the high-quality products were delivered to the customer within quite short time, which was highly praised by the customer.
ND-BD003 Handheld Anti-Drone System has been released by NovoQuad team recently, which is a portable and powerful anti-drone jammer with highly integrated detector. It is a disruptive innovation to traditional anti-drone jammer. Automatic detection replaces human eye searching, which reduces workload and improves accuracy. Built-in detector replaces external detection device, which avoids pre-operation assembly and enhances mobility.
The system allows user to define some jamming frequency bands for flexibility. Besides, the system supports APP Control Platform (Android mobile phone) for more operation functions, such as real-time video recording and playback.
Thanks to its powerful functions, portable design and simple operation, this handheld anti-drone system is a desired solution for low-altitude protection missions and routine patrols for critical areas and events.