ND-IM005 Sistema de Intercepción Standard Wi-Fi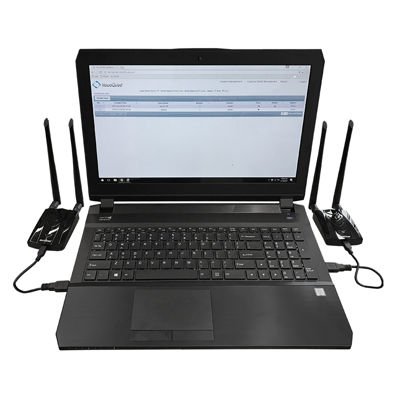 ND-IM005 Standard Wi-Fi Interception System is specifically designed and developed for law enforcement agency to monitor and identify information leaks in classified premises where access to Wi-Fi networks is available.
El sistema consta de 2 módulos principales:
Módulo decodificador (Cracker)
Módulo de Intercepción (Interceptor)
El sistema puede funcionar en modo Pasivo (monitoreo) o Activo. En el modo de monitoreo, el operador puede ver TODOS los usuarios de la red (trabajando, conectado, no conectado) que están presentes dentro de la cobertura del sistema. El operador puede crear una base de datos de direcciones MAC, niveles de señales y todos los puntos de acceso de los usuarios.
El sistema está disponible para escanear por estaciones de Wi-Fi y puntos de acceso, capturar 802.11a, 802.11b, 802.11g and 802.11n trafico WLAN, decodificar WEP o WPA/WPA2, capturar claves (Passwords), detalle en el monitoreo por nodo, estadísticas de canal y estadísticas de conexiones de IP y reconstruir contenidos HTTPs.
Funciones
Monitoreo simultáneo de redes Wifi
Hasta 4
Banda de frecuencia
2.4GHz, 5GHz
Protocolo WiFi
802.11a/b/g/n
Protocolos de seguridad WiFi
WEP, WPA-Personal, WPA2-Personal, WPA2-PSK
Interrupción de la red WiFi
Sí
Intercepción de sesiones HTTPS / SSL
Sí (MITM)
Cobertura
Interior
Hasta 50 metros
Exterior
Hasta 100 metros y más
Reconstrucción de contenidos de internet
Correo electrónico IMAP
IMAP, POP3, SMTP
Red de mensajes
Yahoo Mail, Gmail, Windows Live Hotmail, etc.
Mensajería instantánea (IM) o Chat
Facebook Messager(Web), Yahoo Messenger, Gtalk,Yahoo Web Chat, registro de duración de llamadas de Skype, etc.
HTTP
Enlace y contenido web, Reconstrucción, Carga y descarga de archivos, Transmisión de video (YouTube, etc.)
HTTPS/SSL intercepción
Decodificación y reconstrucción HTTPS con nombre de usuario y contraseña disponibles (con certificado autofirmado o certificado de Sub-CA disponible por otra parte)
Transferencia de archivos
Carga/descarga de FTP, Intercambio de archivos P2P (BitTorrent, etc)
VoIP
VoIP (SIP con G.711, G.723, G.729 y iLBG Codecs) se puede personalizar e incluir (opcional)
Telnet
Soporte con Play Back
Redes sociales
Facebook, twitter, Google+, Linkedin, etc.
Servicio en la nube (Cloud)
CDR of Dropbox, Evernote
Servicio de geolocalización
Servicio de localización de Google, datos SIG de Facebook
Vídeo
Youtube, etc.
Sistema de Intercepción de Wi-Fi
• Escaneo de estaciones Wi-Fi y puntos de acceso
• Captura de tráfico WLAN 802.11a, 802.11b, 802.11g y 802.11n
• Especificación de claves WEP o WPA / WPA2 para decodificar datos en código.
• Visualización de estadísticas detalladas por-nodo y por-canal
• Visualización de estadísticas detalladas de conexiones IP: direcciones IP, puertos, sesiones, etc.
• Reconstrucción de sesiones TCP
| | |
| --- | --- |
| • Interceptor Wi-Fi |  x 1 |
| • Decodificación de Wi-Fi |  x 1 (o varios) |
| • Adaptadores Inalámbricos |  x 2 |
| • Adaptador de la Fuente de Alimentación |  x 1 |
| • Conjunto de Cables |  x 1 |
| • Caso de Transporte |  x 1 |
| • Manual de Usuario |  x 1 |